1 click to fix 50+ iOS system issues for any iPhone, iPad and iPod Touch without lossing data.
This article will introducts a powerful iOS system recovery/repair software to safely fix 50+ iOS system problems for any iPhone, iPad and iPod Touch, get your device back to normal without any data loss, and help restoring lost data from your iPhone, iPad and iPod Touch in a click.
Apple is the world's largest listed company by market capitalization, which is largely due to its innovative product design and the use of high-end technology. When it comes to Apple, we have to mention its core products, iPhone, iPad, iPod Touch and their iOS operating system. Compared to the Android system, the iOS system is a relatively closed ecosystem with low open source. However, the iOS system and its products have a high degree of matching, the operation interface is very beautiful and simple, the system security is high, and the fluency of operation is also excellent. In addition, the integration of software and hardware is very high, which greatly increases the stability of the iOS system.
Obviously, the iOS system has been successfully recognized by users around the world. However, even with such an excellent operating system, it is inevitable to encounter some tricky system issues. According to user feedback, we can divide all these system problems into four categories, namely device issues, screen issues, iOS mode issues and iTunes issues.
If you encounter these iOS system problems during the use of iPhone, iPad or iPod Touch, many users will think of iTunes for the first time. This is undoubtedly a correct choice, but it is also likely to lose your valuables data. So, to repair various of iOS system issues, we recommend you to use the iOS System Recovery software.
iOS System Recovery is the most professional iOS system issues repair program, making it easy for users to fix 50+ iOS system problems when your iPhone, iPad, or iPod Touch perform abnormally, and safe enough to cause no data loss. More importantly, it is perfectly compatible with almost all iOS devices, including a full range of iPhone, iPad and iPod Touch.
Fix iOS Mode Issues
Fix your iPhone/iPad/iPod Touch that stuck on headphones mode/DFU mode/recovery mode/zoom mode/shuffle mode/mute mode/safe mode/restore mode/Home button, and repair any other iOS mode stuck issues.
Fix iDevice Issues
Fix your iPhone or iPad that stuck on black loading screen/can not turn on/disable/stuck verifying update/can not update/can not charge/battery drain/touch screen not working/no service/waiting for activation/failed to restart/keeps restarting/can not turn on stuck on Apple logo screen/does not respond to touch, and repair any other iDevice issues.
Fix Screen Issues
Fix your iPhone/iPad/iPod Touch that stuck on Apple logo screen/frozen screen/white screen/disabled screen/black screen/boot loop/updating requested/attempting data recovery/verifying update/"connect to iTunes" screen/recovery mode loop.
Fix your iDevice that screen can not turn on/blue screen of death/screen unrespond, and repair any other iDevice screen stuck issues.
Fix iTunes Issues
Fix iTunes error when syncing iOS devices/backing up devices/updating iOS devices/restoring iOS devices/connecting iOS devices.
Fix iTunes error that can not connect to iTunes store/can not be restored, and repair any other iTunes error.
Supported Devices
iPhone: iPhone 12 Pro Max/12 Pro/12/12 mini, iPhone 11 Pro Max/11 Pro/11, iPhone XS, iPhone XS Max, iPhone XR, iPhone X, iPhone 8 Plus, iPhone 8, iPhone 7 Plus, iPhone 7, iPhone SE, iPhone 6s Plus, iPhone 6s, iPhone 6 Plus, iPhone 6, iPhone 5s, iPhone 5c, iPhone 5, iPhone 4S, iPhone 4, etc.
iPad: All models of iPad Pro, iPad Air, iPad mini and iPad, etc.
iPod: iPod touch 7/6/5/4/3/2/1, etc.
Before you can use this software, please click to download it to your computer, then follow the prompts to install it to your computer. If done, follow the below steps to fix the iOS system issues for your iPhone/iPad/iPod Touch.
Step 1: Run the iOS System Recovery on your computer, then click on "More tools" on the left column of the homepage, and select "iOS System Recovery".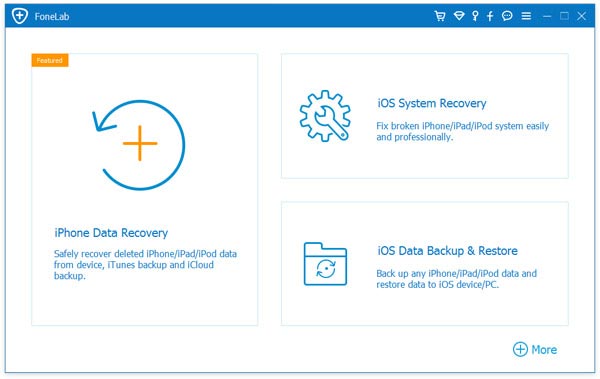 Step 2: Connect your iPhone/iPad/iPod Touch to computer with a USB cable, and tap on "Start", the program will try to recognize your device's system issue automatically.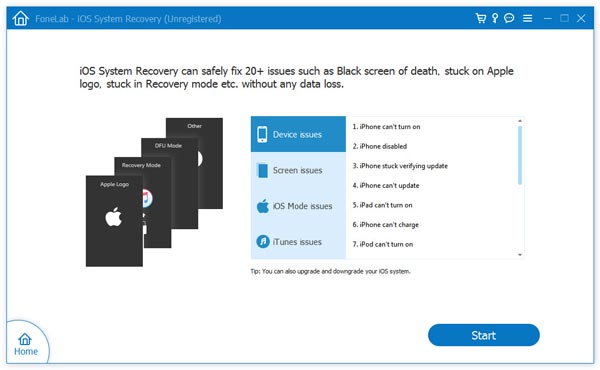 Step 3: Wait for you device has been detected successfully, all the information of your device will be listed, now you can simple press the "Free Quick Fix" option to fix some common issues for your device, or directly click on "Fix" to go on.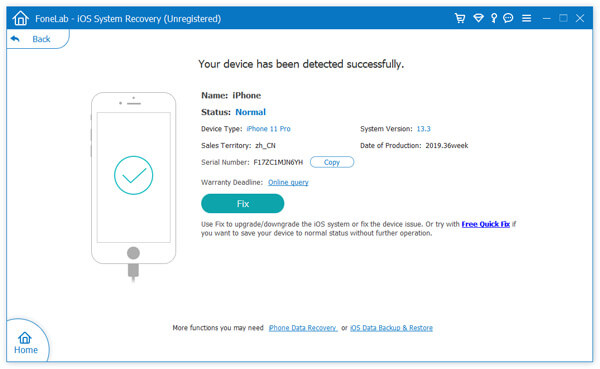 Step 4: Here the program will offers you two repairing modes to fix your device, please choose either "Standard Mode" or "Advanced Mode" as you like, then click "Confirm".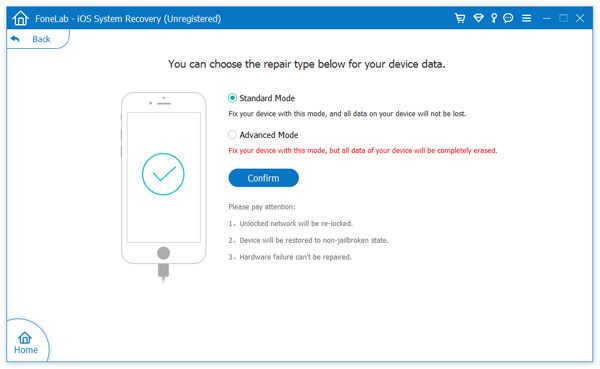 Tips: Fix your device with Standard Mode will not lossing your lost, if you fix your device with Advanced Mode, which can repair more system issues, but all data on your device will be erased completely.
Step 5: After confirming the firmware information of your device, then click on the "Repair" button to begin downloading the matched firmware package for your device and fix your device to normal. Please be patient and do not disconnect your device until the whole repair process to complete.