The best way to transfer WhatsApp data between iPhone devices, backup and restore WhatsApp chatting messages & attachments on any iPhone devices.
Looking for a simple way to transfer WhatsApp messages between your iOS devices? What's the best way to backup and restore WhatsApp messages on your iOS deviecs? Is it possible to recover deleted and lost WhatsApp messages on iPhone? I believe that after reading this article, you will get a perfect answer to these questions.
WhatsApp is a very popular cross-platform application based on mobile phone number registration. It is used for communication between smartphones. WhatsApp is currently available for iPhone, Android phone, Windows Phone, WhatsApp Messenger, Symbian and Blackberry phone users.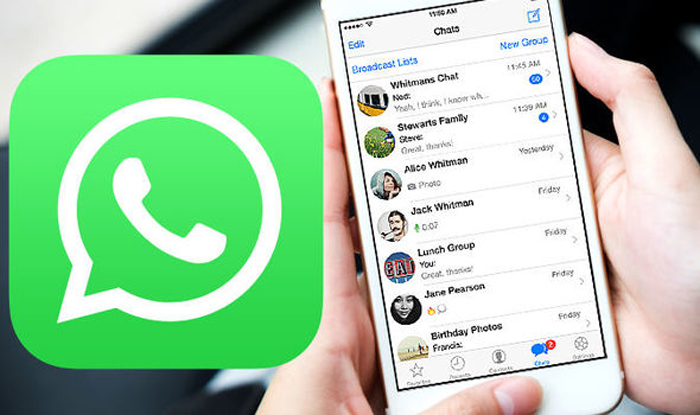 As of the beginning of this year, WhatsApp has 1.6 billion active users worldwide, making it the communication social application with the highest number of users. In the world, WhatsApp does not occupy a leading position in only 25 countries. This is inseparable from the three main features of WhatsApp: free SMS sending function, powerful anti-fraud function, and a huge user base.
Therefore, as an iOS device user, you must often use WhatsApp to communicate with your family, relatives, friends, colleagues, customers, etc. in your daily life. Frequent use makes a lot of WhatsApp data stored in your iPhone. When you change your phone, you need to transfer these WhatsApp data. For some important WhatsApp data, you may need to back up regularly, and even need to restore some important WhatsApp data that has been lost. All of this seems to be very tricky and cumbersome, but in fact, you only need a safe and reliable third-party tool, and this tool we will introduce to you one by one according to its different functions.
Before using these methods, let's introduct you with the WhatsApp Data Manager. WhatsApp Data Manager is an all-in-one yet easy-to-use WhatsApp chats and WhatsApp attachments management tool. With help of this software, you can one click to transfer WhatsApp data from one iOS device to another, backup and restore your WhatsApp data on any iPhone/iPad/iPod Touch. Besides, you are allowed to restore deleted and lost WhatsApp chat history and WhatsApp attachments from any iPhone/iPad/iPod Touch by using this management software. Without further ado, let's take a look at the specific operation of this software.
Supported Devices: iPhone 12 Pro Max/12 Pro/12/12 mini, iPhone 11 Pro Max/11 Pro/11, iPhone XS, iPhone XS Max, iPhone XR, iPhone X, iPhone 8 Plus, iPhone 8, iPhone 7 Plus, iPhone 7, iPhone SE, iPhone 6s Plus, iPhone 6s, iPhone 6 Plus, iPhone 6, iPhone 5s, iPhone 5c, iPhone 5, iPhone 4S, iPhone 4, etc.
Part 1 Transfer WhatsApp Data Between iPhone Devices
Getting a fully new iPhone, iPad or iPod Touch to replace your old iOS device, and wanting to transfer your WhatsApp data between them? WhatsApp Data Manager can help you to transfer all WhatsApp data, including chat history and attachments like photos, audio, videos, and contacts and more between any iOS device.
Step 1: Download, install and run the software on your computer, then select "WhatsApp Transfer for iOS" in the primary interface.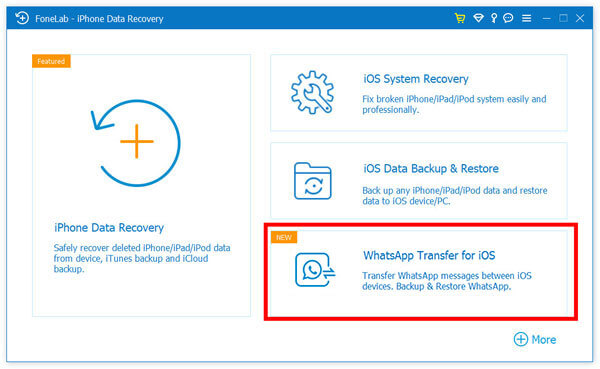 Step 2: Tap on "Device-to-device Transfer" option on the next interface, and then connect both of your old and new iPhone devices to the computer via their USB cables.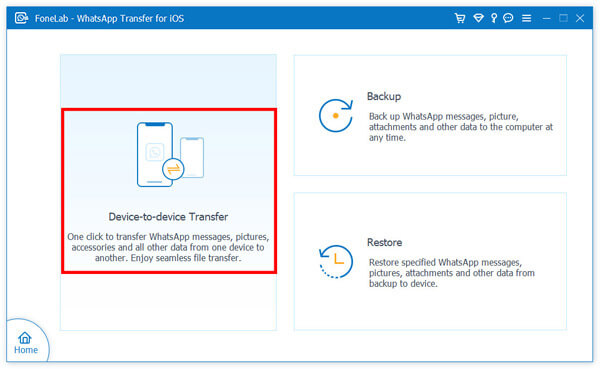 Tips: Please make sure that your old iPhone is the source device and the new iPhone is the target device. You can click the "Switch" button to reverse their positions.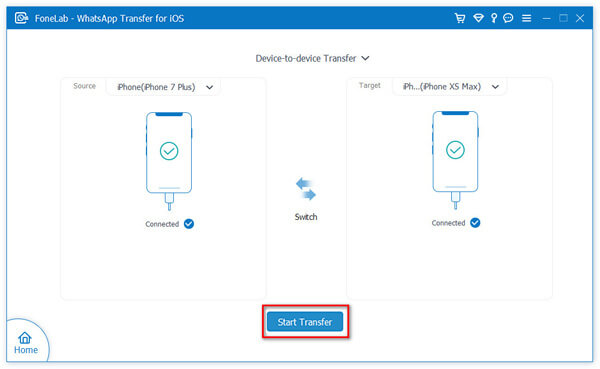 Step 3: Wait for your iPhone devices are detected and displayed on the right place, click on the "Start Transfer" button to start transferring WhatsApp messages and attachments between your iPhone devices.
Part 2 Back Up WhatsApp Data from iPhone Devices to Computer
Accidents are everywhere. The key is that you don't know when the accident will happen, so it is necessary to back up your WhatsApp data on iPhone regularly.
Step 1: Return to the main interface of WhatsApp Transfer for iOS, and click on the "Backup" option.
Step 2: Use a USB cable to connect your iPhone to computer, and choose the save path for your WhatsApp data backup file.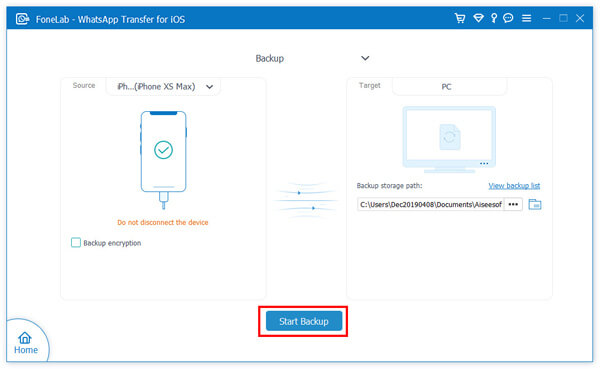 Step 3: Once your iPhone is recognized, click on "Start Backup" to begin backing up your iPhone for all its WhatsApp messages and attachments to the specified folder.
Part 3 Restore WhatsApp Data from Backup to iPhone Devices/Computer
If you have backed up your iPhone WhatsApp data according to the method in Part 2, then you can easily restore these data from backup to any other iPhone selectively.
Step 1: Return to the main interface of WhatsApp Transfer for iOS, and click on the "Restore" option.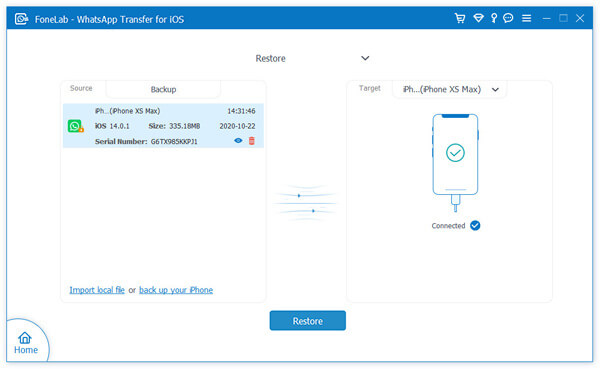 Step 2: Connect your iPhone to computer via its USB cable, and click on "Import local file" to load the WhatsApp backup file from the folder where you use to save the backup file when backing up your iPhone WhatsApp data.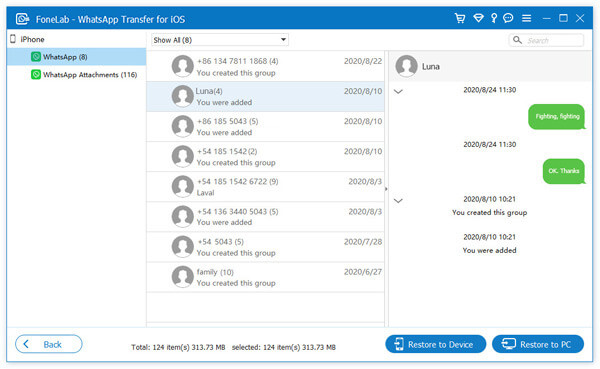 Step 3: After that, the program will automatically extract all the restoreable file from the selected backup file, wait for your iPhone is detected, select the WhatsApp data you need, and then click on "Restore to Device" to save them back to your iPhone, or click on "Restore to PC" to save them back to your computer.
Part 4 Recover Deleted/Lost WhatsApp Data on iPhone Devices without Backup
If you have not had time to back up WhatsApp data before losing it, or even if you have no habit of backing up WhatsApp data at all, then you must pay attention to the WhatsApp data recovery function of WhatsApp Data Manager, which can help recover lost and deleted WhatsApp data including WhatsApp chatting messages and WhatsApp attachments on any iPhone devices.
Step 1: Run the software, and click on "Recover from iOS Device" on its homepage.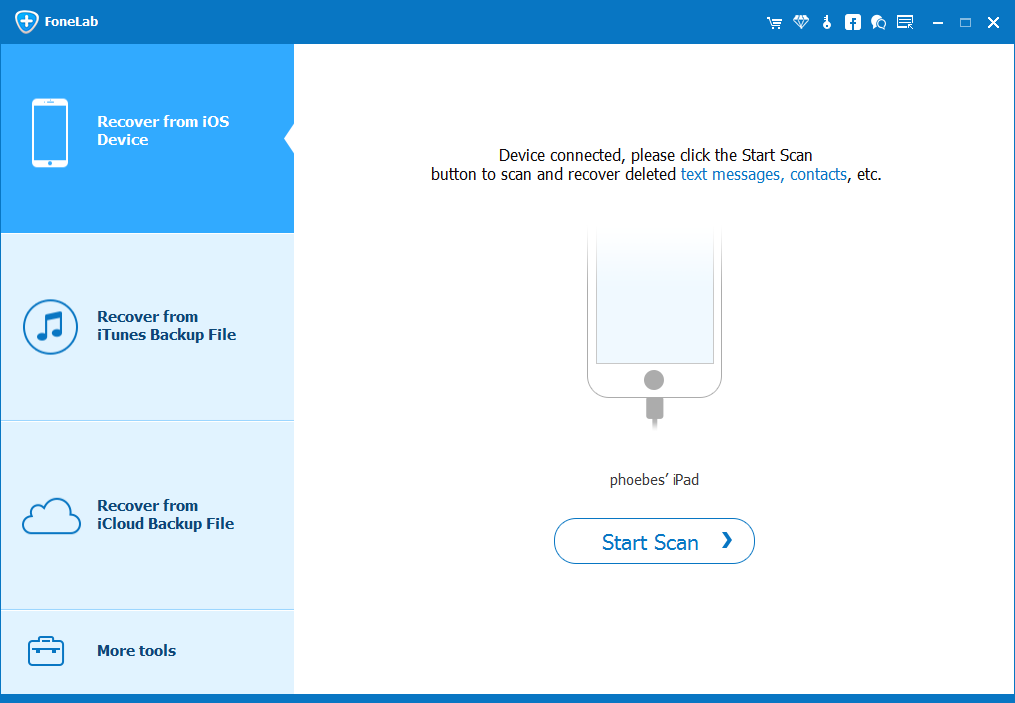 Step 2: Connect your iPhone to computer via its USB cable, and then tap "Trust" on your iPhone.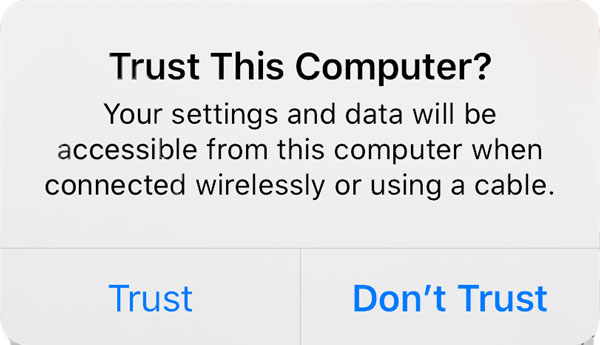 Step 3: Wait for your iPhone is recognized, select the file types that you wish to recover, then click on "Start Scan" to begin scanning your iPhone for the selected contents. If you just want to recover the deleted and lost WhatsApp data, you just need to check the "WhatsApp" and "WhatsApp Attachments" items.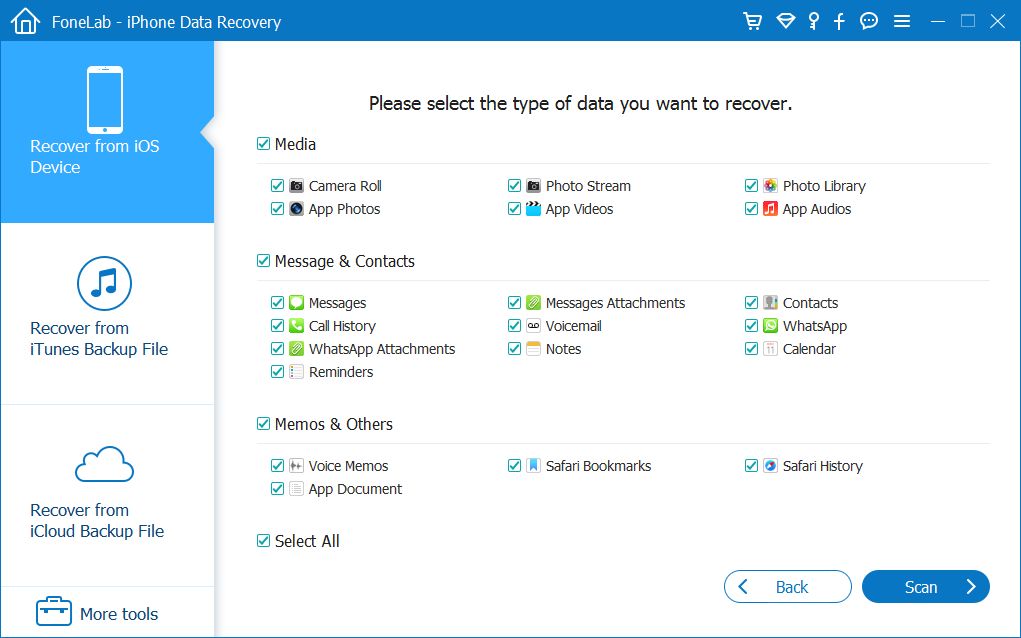 Step 4: When the scan is complete, all scan results will be listed in different categories, you can press the "WhatsApp" and "WhatsApp Attachments" to preview all the details on the right panel.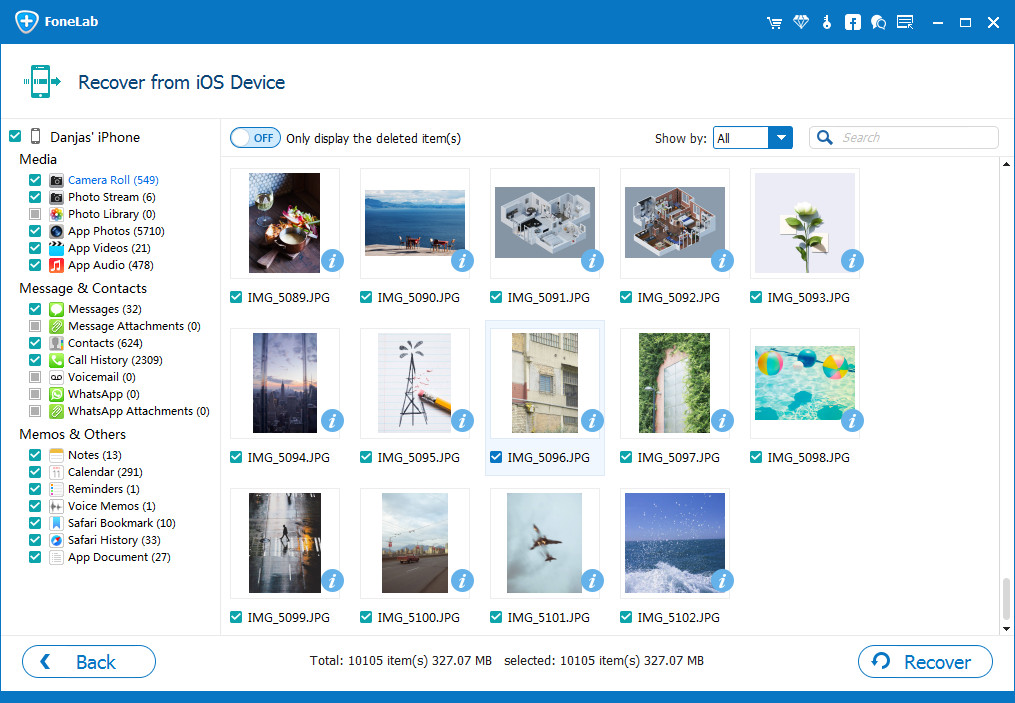 Then choose those whatever you need, and click on "Recover" to save back to your computer.
Note: If you've ever backed up the WhatsApp data from your iPhone to iTunes or iCloud, then you can extracting to restore the deleted and lost WhatsApp chatting messages and attachments from these backup files.