Nomatter what the reasons cause your iPhone 14 Data/photos lost. This article can easily restore those pictures from your iPhone 14 with several methods.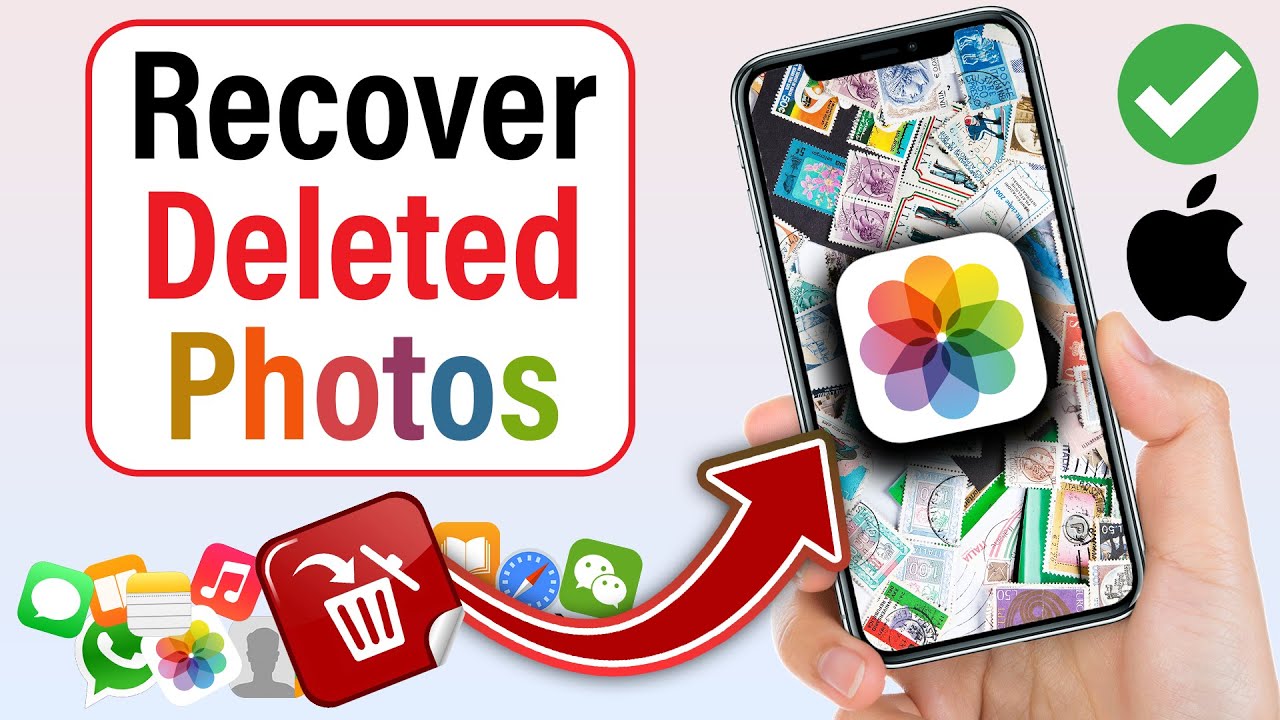 Your iPhone 14/Pro/Max photos is suffering great problem and you don't know how to recover. Most importantly, you don't know the specific steps and also the notice when you are recovering your data. When you searching on the internet, the method is always the same, but there are seldom people can told you that what you need to notice when you are using this method. One of my friends use a tool introduced on the internet and cause a great problem, which his another data have been wiped out by the application. Therefore, if you don't notice the special note you may even suffer great loss.
Thus, this article wants to to think critically and logically and know which method is helpful for you can even have a good choice.
Your iPhone 14/Pro/Max have a sleek new design, powerful processors and stunning camera, so when you have it, you can't wait to use it to capture the beautiful moments and filter the best ones to share with your friends and family. If your precious photos have accidentally deleted and what can you do? When that happens you just want your Photos back. Thankfully, there are plenty of ways that you can use to find deleted pictures on your iPhone with or without your backup. What's more, we will tell you how to do it better and something you need to avoid.
There are 5 ways to recover your Lost iPhone 14/Pro/Max Photos on iPhone 14 with/without backup.
Anyone who accidentally deleted a photo from their iPhone 14 knows the anxious feeling that comes with it. Losing your cherished memories, if can a recent vocation or childhood milestone or just something very meaningful for you. However, all have lost. But here the article just want to rest your heart and tell you that your lost photos can be back. Pls try out this method and keep in mind the notice.
Way 1: Check your Gallery in your iPhone 14/Pro/Max at once
Go to check your Gallery as soon as possible, if you are lucky, you may still find your photos from the most accessible location. We are referring to the "Recently Deleted" folder in your iPhone app, where iPhone sends all deleted photos by default. If you don't think of the method beforehand, then now you can go to check the place firstly.
Note: The place just a temporary storage place where your photos reside for up to 40 days. After that day, you Data may permanently deleted.
Step 1: Open "Photos" app in your iPhone 14 and select "Albums".
Step 2: Find the "Recently Deleted" and open. You may find some photos stay there during 30 days.
Step 3: About the permanently deleted photos from your Gallery on iPhone 14, you can click "Select" option and also start tapping on all the photos you want to restore.
Step 4: When you have finished choosing, then you can click on "Recover" in the button and accept the pop up notification. Wait few minutes and your data will be back.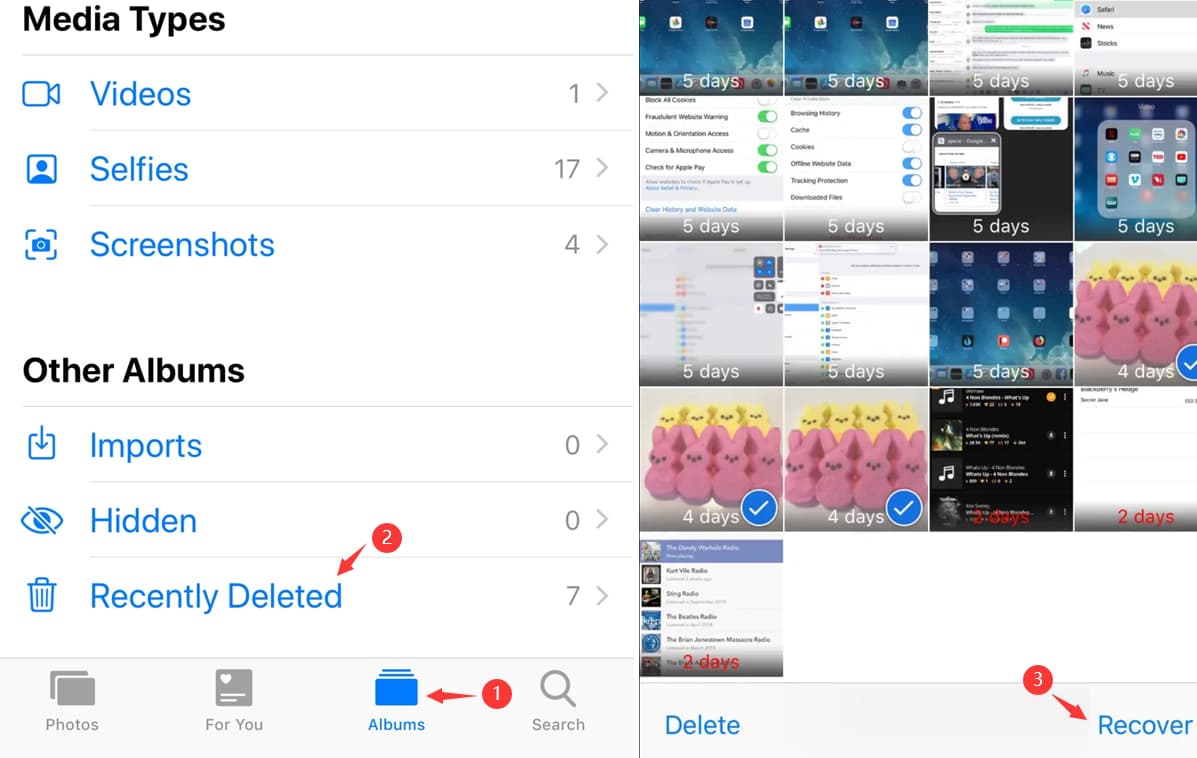 Of all methods, this one the most easiest. But it depends on you not having deleted photos from this Album. Once they leave the location, you are forced to look for other recovery methods. Below are other methods for your choose.
Way 2: Recover Lost iPhone 14/Pro/Max Photos with iPhone Data Recovery
Do you know iPhone Data Recovery application? Have you ever heard of iPhone Data Recovery. If this is the first time you know it and use it. You are very lucky because iPhone Data Recovery can help you recover your lost Data and never cause any problem.
What? You never backup your data with any application or tool. That is completely not a problem. Because iPhone Data Recovery can recover your data both backup or without backup. And you are worrying about your photos is so big so that the system can not recovered? iPhone Data Recovery can also help you solve this problem and you can just open the application and find your data back. The specific operation is as following.
Note: The application have a Quick Scan mode and Deep Scan mode which can help you save your time or scanning your data thoroughly. You just have a choose before the data scanning.
Step 1: Download the application in your computer. "Recover from IOS device" on the first page when you open the software.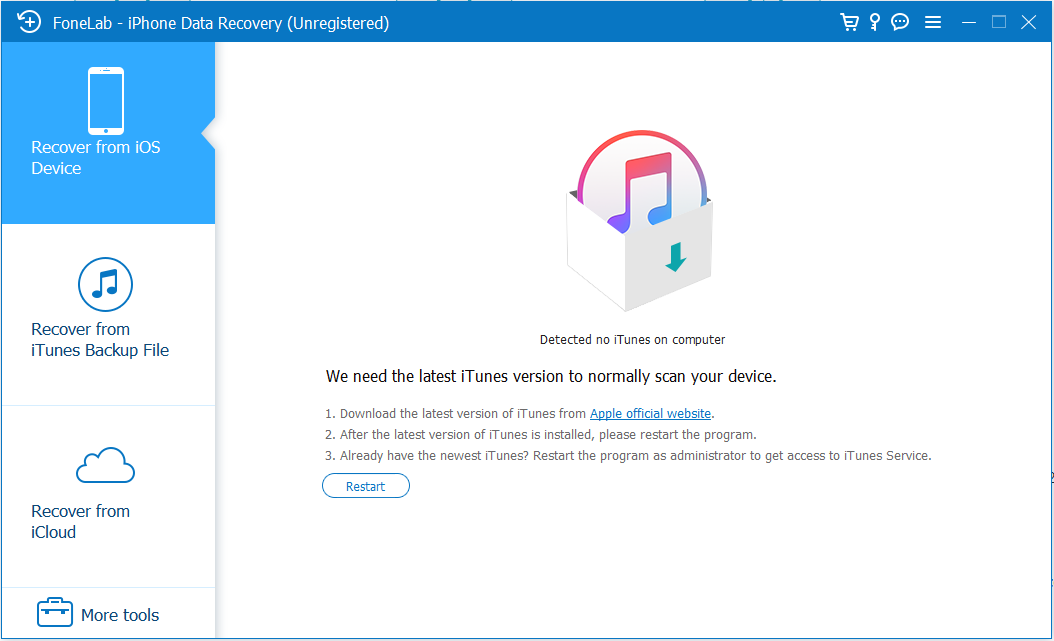 Step 2: Connect your iPhone 14/Pro/Max to your computer. When connect, confirm your deovec in the pop up window.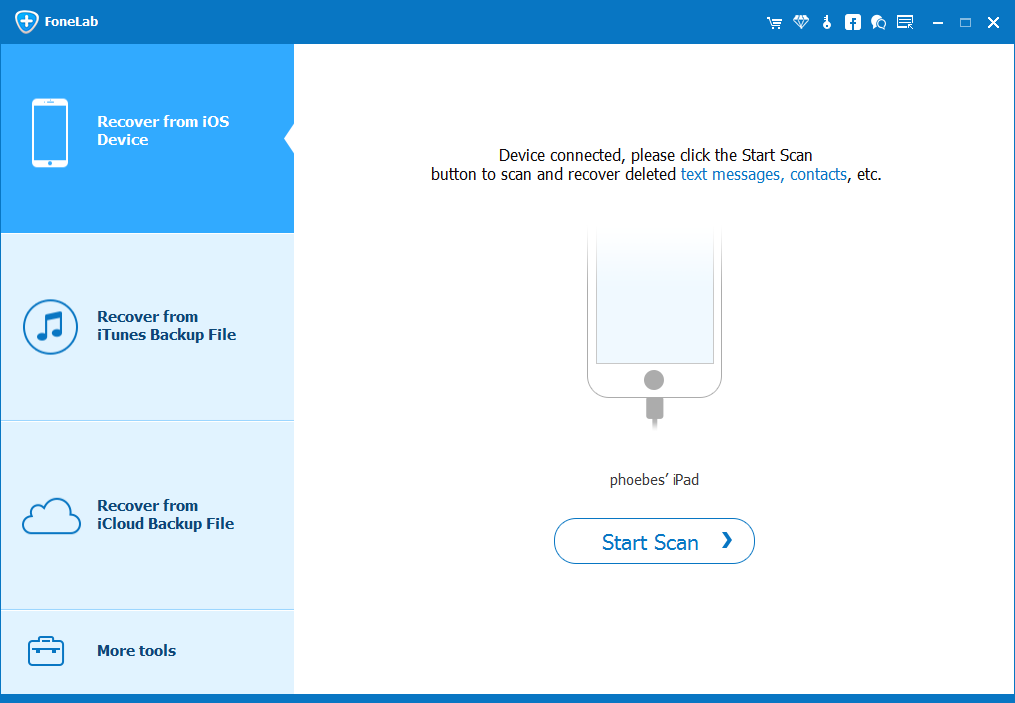 Note: If you don't debug your USB cable your device may not recognized.
Step 3: Click "Start Scan" so that the system can scanning your iPhone photos or any other data. When finish then scan result will show out and you can have a choose or just preview.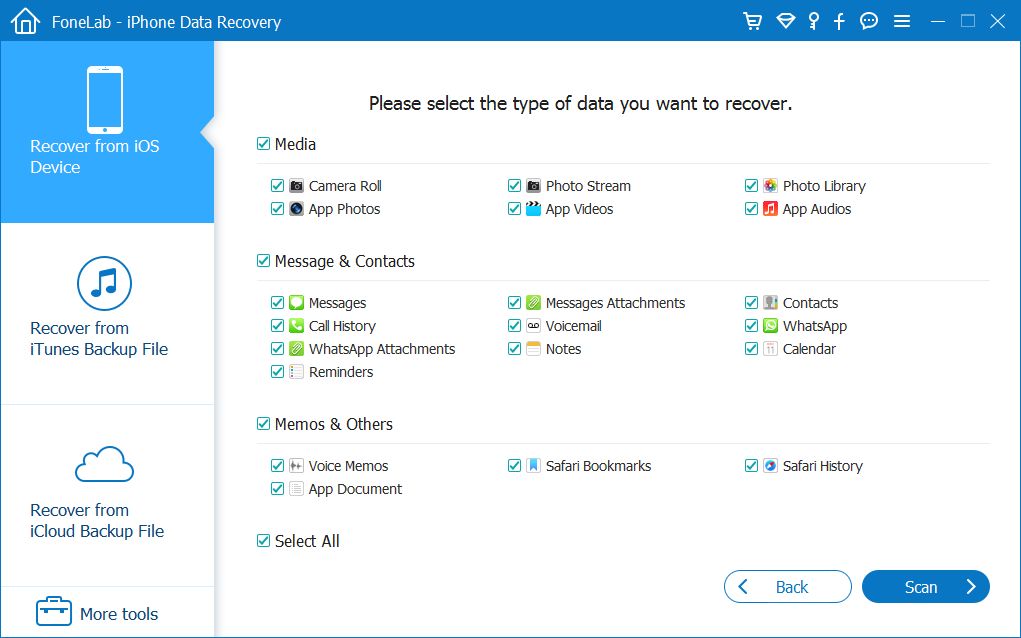 Step 4: Make a selection between your scanned photos and finally click "Restore to device". Few minutes later your Notes will be back.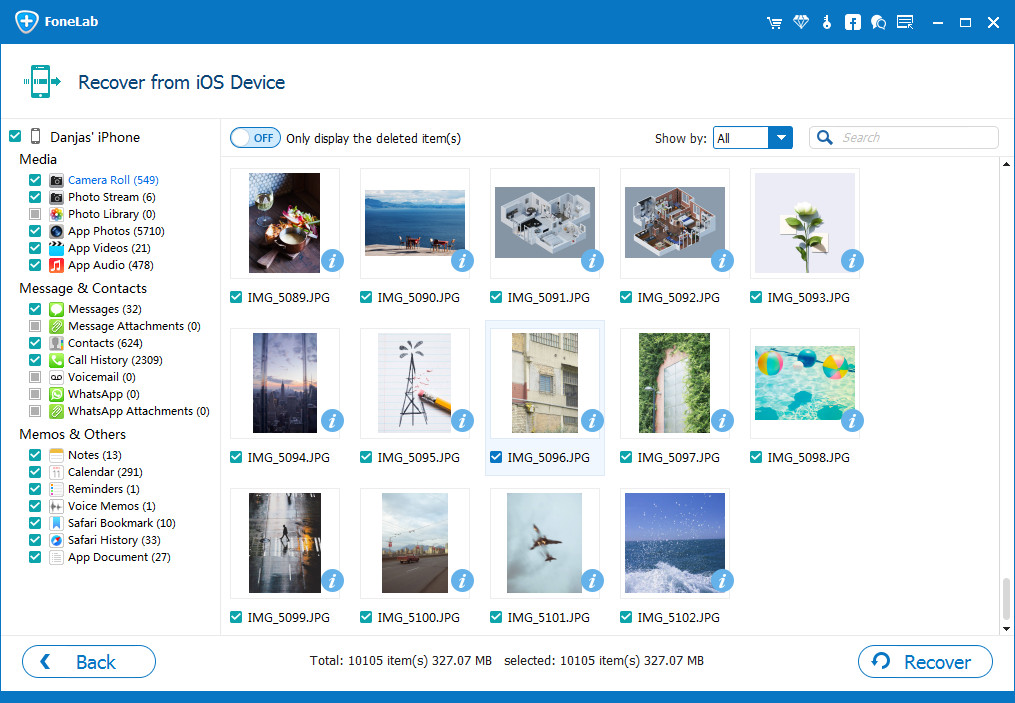 Way 3: Recover Lost iPhone 14/Pro/Max Photos from iCloud recently deleted
Besides a "Recently Deleted folder" on your iPhone photos, there are another "Recently Deleted" files on iCloud.com. It saves your recently deleted photos too. You can have a try whether you can find your lost photos in this channel or not.
Note: This method also not allowed you recover your Photos deleted over 30 days.
Step 1: Open iCloud.com webpage.
Step 2:Go to "Photos" next your "Recently Deleted" files.
Step 3: Check your deleted iPhone photos and if they are listed there you can click "Recover" on the top right to restore them.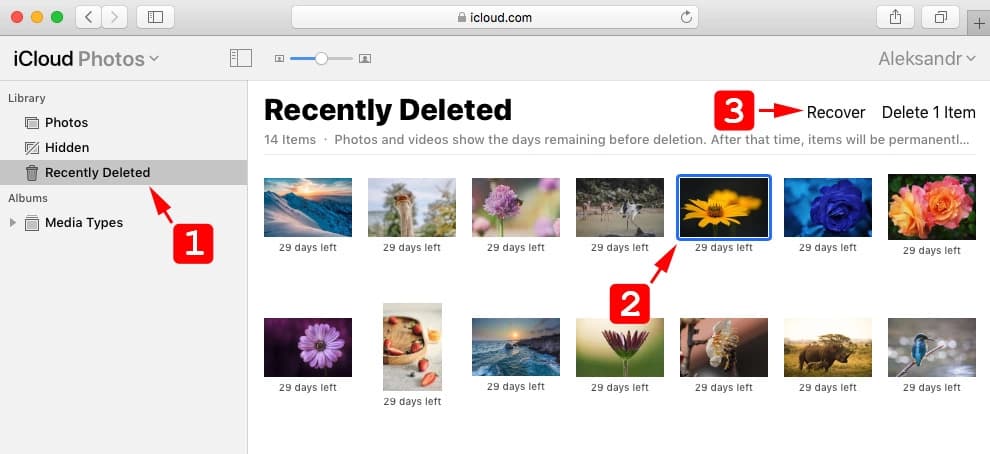 Way 4: Recover Lost iPhone 14/Pro/Max Photos from iTunes backup file
iTunes is a very useful method for anyone who is very familiar with the application. iTunes can be used to manage IOS device and also can backup your data. For iPhone users, iTunes is the rather good way for them to create backups files or recover their data. To recover your permanently deleted files you would better follow the following steps.
Note: iTunes automatically backup your iPhone data is you sync your data with the computer. However, these backups only your recent backups.
Step 1: Connect your iPhone 14 to your Computer. Remember to operate your iTunes. Pls trust the computer that prompt up in your iPhone.
Step 2: If connected seemingly, it should show up on the window and you can select it to continue the recovery process.
Step 3: Under the backups, click on "Restore Backup" to start the process. Next iTunes will prompt you at this time and you need to proceed with the recovery process. Click "Restore" option again.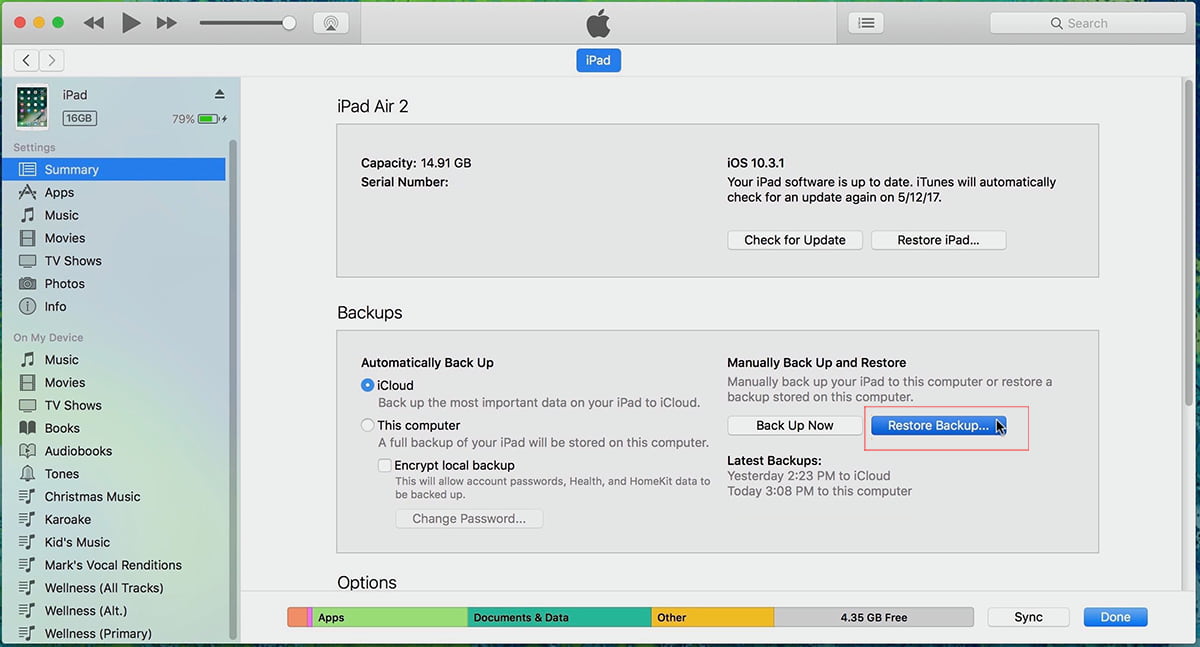 Step 4: Then system will start scanning your backups and you can see the process on the top of the window where the Apple logo is present.
Step 5: When finish scanning, your iPhone photos have been back you can have a check in your Photos app.
Way 5: Recover Lost iPhone 14/Pro/Max Photos from iCloud Backup
If you have been backup your data in iCloud backup then you can recover them very easily. iCloud backup is a feature that comes with every IOS device and you can backup your photos and so on.
Note: You can recover your photos in this method at any time. If you have have a computer, then this method is the most suitable for you.
Step 1: Open "Setting" app and click on your name at the top corner.
Step 2: Select "iCloud" and click on "Manage Storage".
Step 3: Select "Backup" and choose the most recent backup in the app.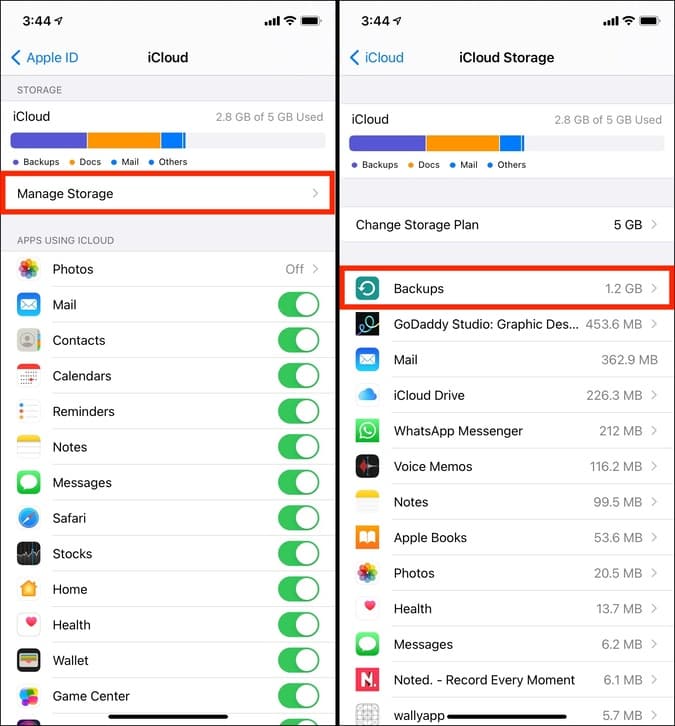 Step 4: Choose "Show all apps" and select Photos". If you see the photos you want to recover just click "Recover" button to confirm.
Note: It will overwrite any existing photos on your device so pls be sure to backup your current photos before proceeding.
If you want to know more about Data Recovery, just download iPhone Data Recovery to know more from data loss reasons to recovery method and steps. All in the application is very clear and surely helpful for you. Hope this article can help you a lot and make your lost iPhone photos back.