Summary:This is an article about data transfer. If you want to transfer your Samsung Whatsapp to your iPhone 8/X/XR/XS/11/12/13/14. Then this is the most suitable. Or if you want to transfer your Android data to your iPhone then you also can get some information here.
Problem analysis:
No matter in our daily life or in our work, the Whatsapp always store all of our important information message. However, when we want to change our old device to new iPhone device, then our original message also appear in our new phone, which is really inconvenient and cause o lot of problem in our work. Move to iOS app was released by Apple Store?to help user transfer their data from Android to iPhone, but this app is not allow transfer Whatsapp from Android to iPhone so you still need to find ways to tackle your problem.
Therefore, to solve your problem, this article will specifically introduce you three methods and a very useful tips to your so that you can feel free to transfer your Samsung Whatsapp to iPhone. Let's begin!
Method outline
Method 1: Transfer Samsung Whatsapp to iPhone from Mobile Transfer
In Mobile Transfer's official website, you can get their detail information about the software. You can click the link to make a clear understanding. If you don't have time to check the link, then I can tell you some key information. The software enable all kinds of device like OPPO, Samsung, iPhone and Xiaomi to transfer all kinds of files types like Whatsapp, Message, Chat, Photos, and video and so on.
But here I would still like to notice you some information, the system will allow quick operation to save your transferring time. What's more, you must prepare USB cable to connect your old and new device with the computer. More importantly, do not disconnect before the transfer process finish.
Step 1: Download Mobile Transfer and Open it on PC.
Step 2: At the homepage click "Phone to Phone" and press "Phone Transfer" button. Connect your Samsung and iPhone to Windows with their own USB wires.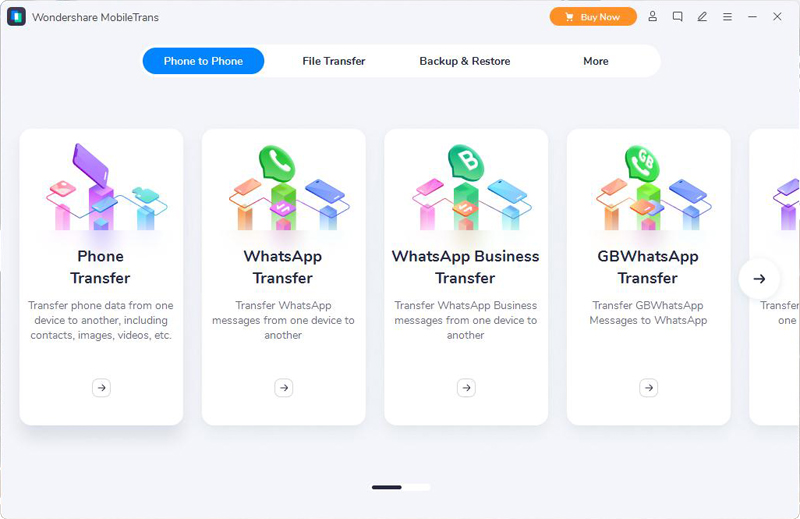 Step 3: When connected your Samsung is placed in the source side and your iPhone is placed on destination panel. (To make sure the right transfer order that you can transfer your Data from Samsung to iPhone.)
What's more, your also can see the "Flip" in the interface which is used to change the position between your old and new device.
Step 4: Then the system will scan your Samsung when it finish you can choose your Samsung Whatsapp to transfer.
Step 5: When you are sure then you can tap "Start" button directly and begin transfer.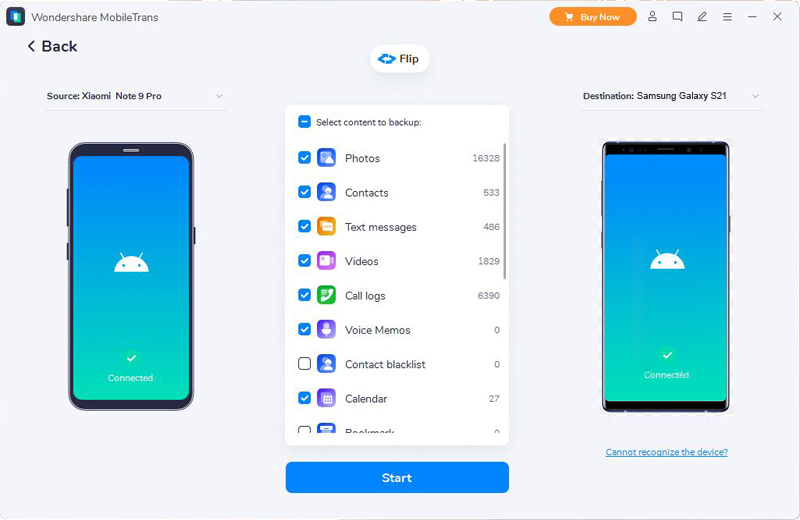 Additional Tips: Backup Samsung Whatsapp with Mobile Transfer.
Since you already use Mobile Transfer to transfer your data, you can also use it to help with your data backup, because it is the most efficient. And you can make sure your data is 100 percent protected. Using this method to backup your data, the quantity and content will display on the screen plus the path how you recover your backups.
Step 1: Open Mobile Transfer. Click "Backup & Restore" in interface.
Step 2: Connect your Samsung to computer with an USB cable. Click on "Backup phone data" then the screen will skip.
Step 3: When your Samsung is detected then it is time to select data to backup. When you finish choosing click "Start".
Method 2: Transfer Samsung Whatsapp to iPhone with email chat.
As the name suggests, you can email a dedicated WhatsApp chat record to any contact. But this requires you to transfer one by one, so it will be a little bit troublesome. Also, it has a limitation is that this method does not allow you to restore this chat backup to WhatsApp on iPhone. However, you can preview these chat records on iPhone.
step 1: Open any chat message that you want to transfer in the Samsung WhatsApp.
step 2: Click on the three points given in the sidebar and select "More" then " Export Chat".
step 3: Then that will be Various options pop up in the window, from which you must select Gmail.
When it opens "Gmail writing" interface, from which you can download the chat and preview it anytime.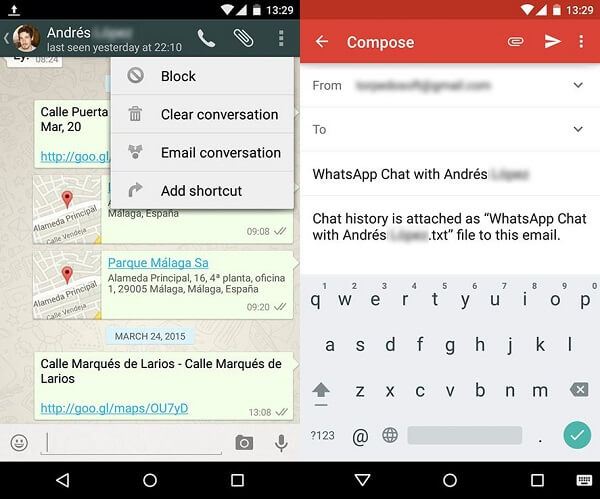 Then that is all the transfer process, but you only can preview message as a text file, but not in the usual way.
Method 3: Transfer Samsung Whatsapp to iPhone via Google Backup.
Google Backup is a software that we usually use in our daily life. We use it to backup our data and recover our data but you don't know that Google Drive can also help up transfer our data without omission only if you has been backup your Samsung Whatsapp then you can use this method freely.
Step 1:Open Google Drive apps in your iPhone or on the web page. Log into your account and password. Because you has been backup so you can directly log into your backup ones.
Step 2:When entered you will allowed to see all the backups in your phone.
Step 3: Go to find your Whatsapp you can select it and go to transfer the data. Finally, click "Download".