Summary:This is an article about restoring your iPhone X/11/12/13 Voicemail file. As you will see next, your deleted Voicemail can be restored smoothly.
Problem Analysis:
In many cases, we lose no time to back it up on Voicemail. So before guiding you to restore your Voicemail, I will show you why your Voicemail is lost?
As we all know, our phone memory card is limited, and when your phone is full, your phone prompts you to delete some less important files, such as the Voicemail you haven't backed up. Under this circumstance you will misoperate. The second is that when your phone is severely damaged, the files inside the phone will suffer as well, so your Voicemail will also face a crisis. Some last common reasons, such as your iPhone X / 11 / 11 / 12 / 13 restore factory settings, mobile file formatted, etc, so when you recover your file data, you can first think about the situations that cause your problems.
Method Outline:
Method 1: Recover Voicemail from iPhone X/11/12/13 from recent deleted voicemail
If you know that you have not recently deleted your voicemail for over 30 days, then this method can help you recover your voicemail quickly.
Step 1: Open the Phone app on your iPhone X/11/12/13 and tap the "Voicemail" button in the bottom right corner.
Step2: Scroll down and tap "Deleted Messages" which is stored your voicemail.
Step 3: Select any voicemail you want to recover and tap "Undelete" so that your previous voicemail can back to the Voicemail inbox.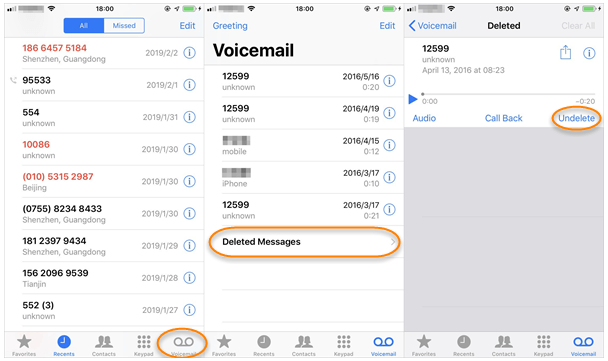 Method 2: Using iPhone Data Recovery to recover Voicemail from iPhone X/11/12/13
iPhone Data Recovery is an useful software and give you best help. Its recoverable data include Camera Roll, Photo Stream, Photo Library, App Photos, App Videos, App Audios, Messages & Contacts, Call History, Voicemail, WhatsApp, WhatsAPP Attachment. So first of all your iPhone X/11/12/13 voicemail is recoverable by it.
Your Voicemail is directly recovered through the software no matter your voicemail has been backup or not.
Step 1: Download, install and launch iPhone Date Recovery program on PC.
Step 2: Linking your iPhone X/11/12/13 to the computer using USB wires. Click "recover from IOS device" on the home page.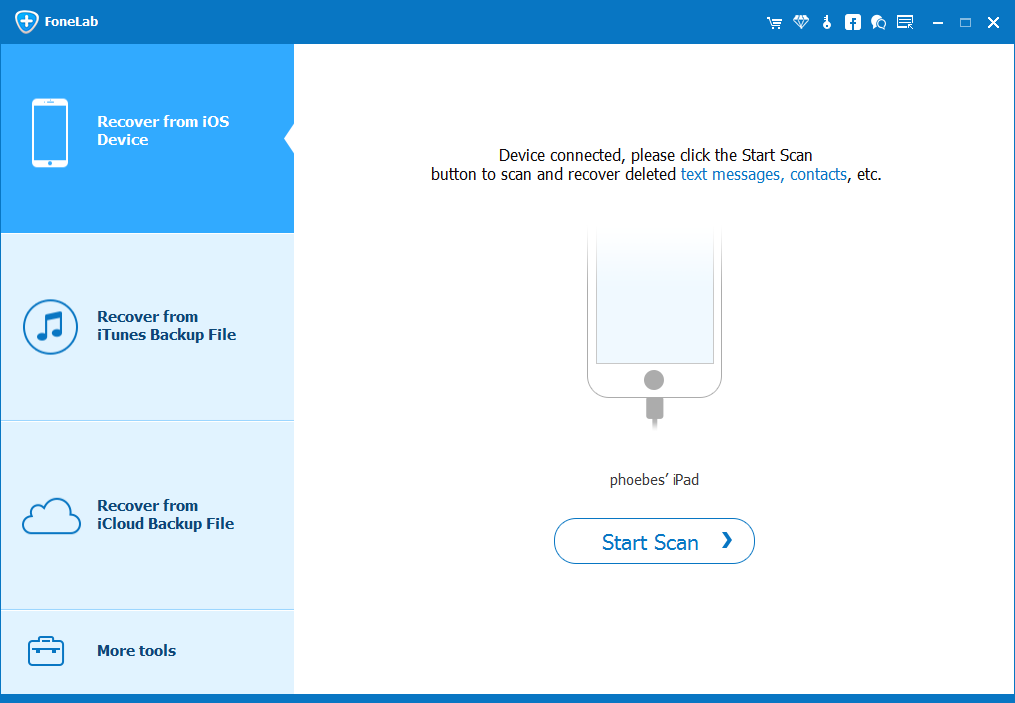 Step 3: Select file types and start to scan your iPhone. Then your voicemail will be displayed on the screen.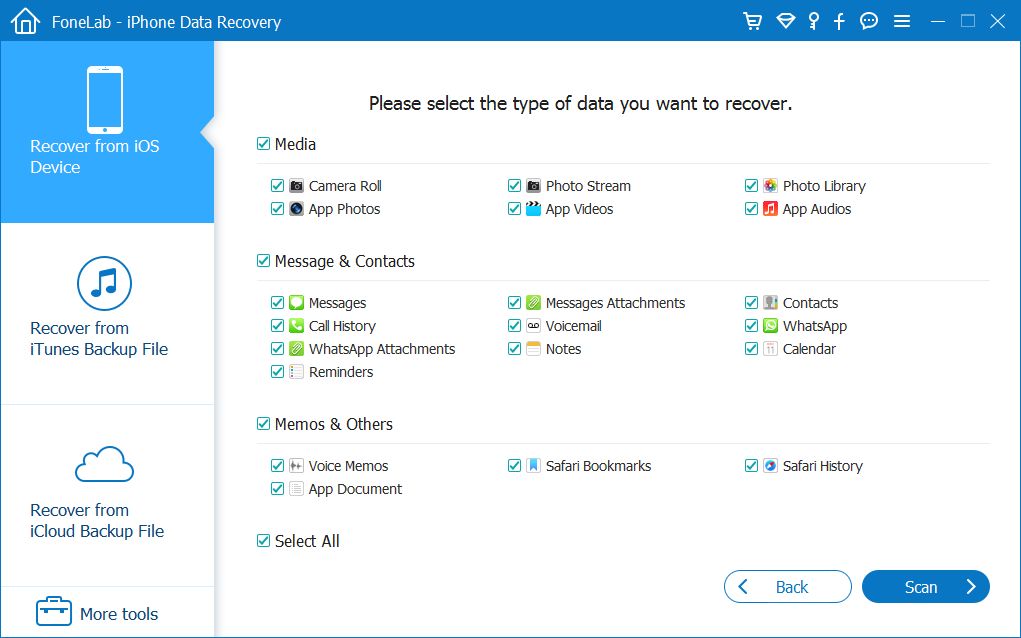 Step 4: Last, preview the selected voicemail and click "recover" to save.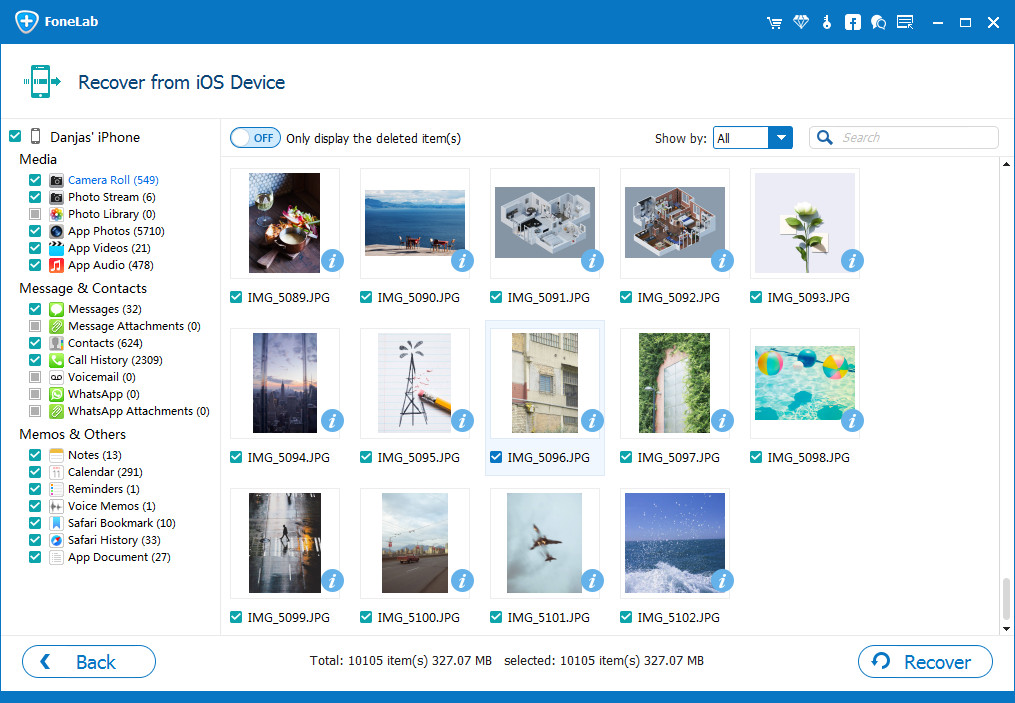 Method 3: Recover Voicemail from iPhone X/11/12/13 from iTunes Backup
If your previous iPhone X / 11 / 12 / 13Voicemail has been backup through iTunes Backup, then this method also gives you the most firm support. And its operation steps are not complicated.
Step 1: Launch iTunes on the PC or Mac.
Step 2:Connect your iPhone X / 11 / 12 / 13 to the computer and click on your device icon.
Step 3: Click on "Restore Backup" button and then select voicemail that you want to restore.
Step 4: Finally, click on "Restore" and wait to complete.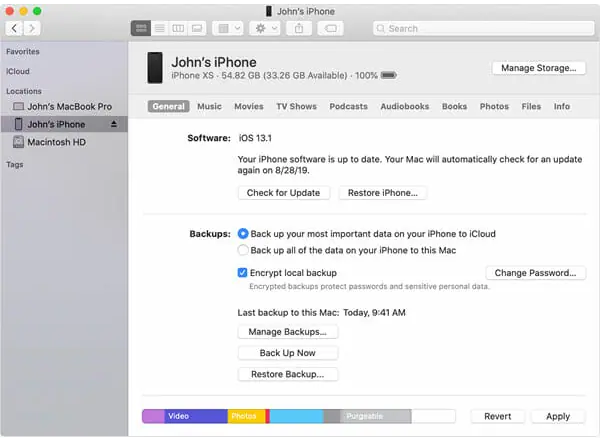 Method 4: Recover Voicemail from iPhone X/11/12/13 from iCloud Bckup
This method is most familiar to iPhone users, and iCloud is the software that we often use to backup our data. So you can also use it to recover your data when your voicemail is removed and is operatable on your iPhone X/11/12/13. An stable network is necessary.
Step 1: On your iPhone iPhone X/11/12/13, go to "Settings", "General" and "Reset" and choose "Erase All Content and Settings".
Step 2: Follow instructions until it gets to the App & Data part, then choose "Restore from iCloud Backup".
Step 3: Log into your iCloud account and select the backup voicemail to restore.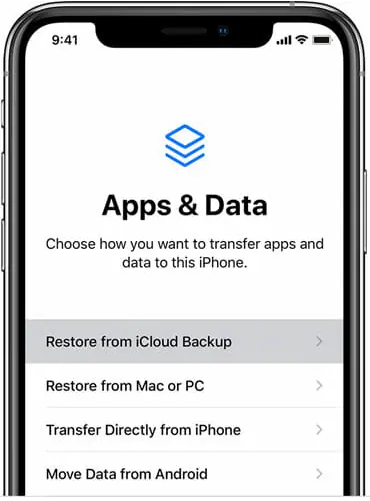 Method 5:Backup your Voicemail from iPhone X/11/12/13
The voicemail in our phone always record our most important things, so we should back it up so it can recover quickly when you are lost. So please use universal iPhone Date Recovery software to back up your data and any file form it supports.
Steps 1:Run iPhone Date Recovery on your computer. If not, download one and click "iOS Data Backup".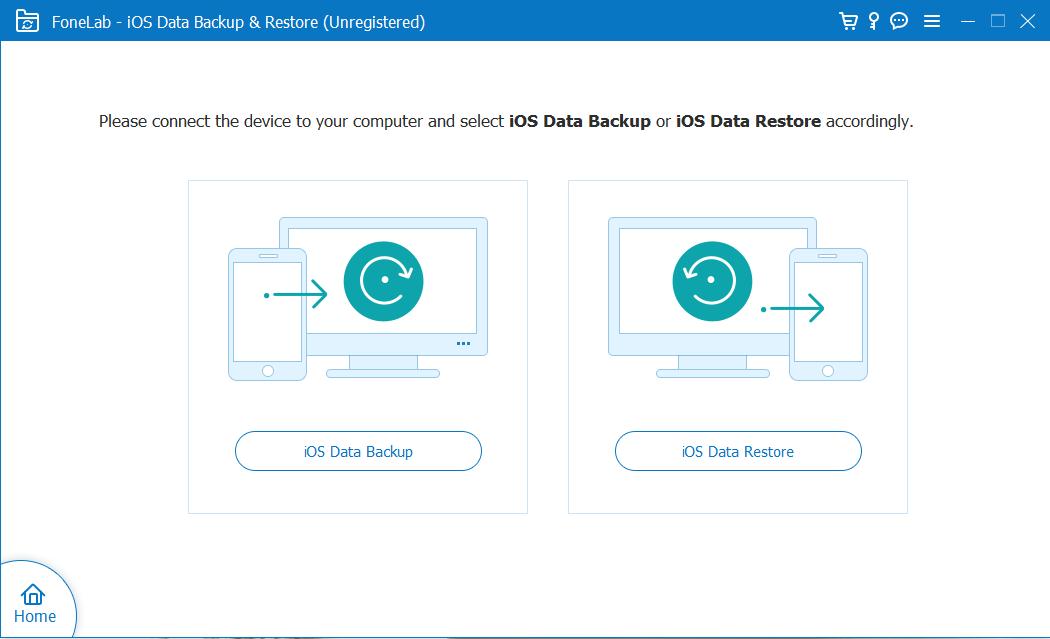 Steps 2:Please connecting your iPhone X/11/12/13 to computer with a USB wire. And then the application will be scanned.
Step 3:You are allowed to choose one from two options- "Device Data Backup "or "one-click Backup".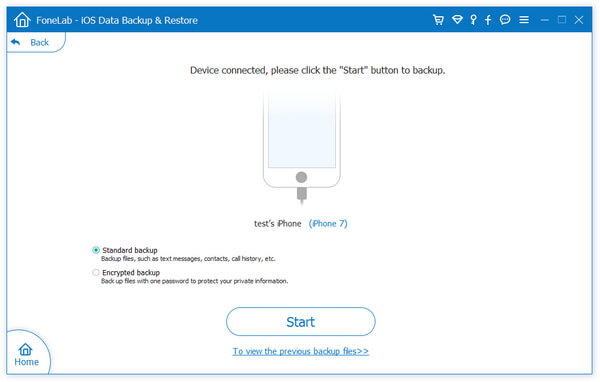 Step 4: The last step is to select your voicemail to backup. If you also want to backup another items you can also click them together and finally click "start".